Article publié sur quoifaireabordeaux.com
3 semaines de folie furieuse vous attendent à la Belle Saison, le container et BAR Éphémère à cocktails Caraïbos Cocktail Club, va vous régaler, avis donc à tous les aficionados de cocktails et de bon son.
Coctails – Open air – Chill en Bord de Garonne
Le Caraïbos Cocktail Club débarque dans le Jardin de la Belle Saison, en plein bord de Garonne, non loin de Darwin. Au programme : Cocktails, open air, et chill
Un container transformé en bar à cocktail éphémère, sera installé du 15 septembre au 2 octobre, venez prendre un bain de soleil et boire un cocktail, dans ce magnifique jardin aux airs de terrasse californienne-chill le jour, et qui se transforme en open air au coucher du soleil
Le dispositif, végétalisé, coloré et habillé de rotin, bois et autres matières aux couleurs chaudes propose une expérience posée, une bulle ultra estivale et musicale, avis aux amateurs de sorties inédites.
L'ORANGEADE – SUPER DARONNE – HOUSE OF UNDERGROUND – (Gratuits)
Et comme un bon cocktail s'accompagne toujours d'un bon son, le Caraïbos Cocktail Club vous propose une programmation de folie, 3 open air gratos, qui vont vous transporter dans des univers musicaux différents.
Les 3 derniers vendredis soir de septembre vont mettre le feu à Bordeaux sur la scène du Caraïbos Cocktail Club à la Belle Saison.
On commence par l'Orangeade qui va enflammer le Jardin de la Belle Saison sur la scène du Caraïbos Club le vendredi 16 septembre de 19H à 1H, le vendredi 23 septembre House of Underground prendra le relais toujours de 19H à 1H, et enfin le collectif Bordelais Super Daronne va clôturer la tournée le vendredi 30 septembre de 19H à 1H
Caraïbos gère les cocktails
Depuis sa création, Caraïbos ne cesse de parcourir le monde à la recherche des meilleurs fruits pour offrir à tous les meilleurs jus.
Cet été, la marque mets ses jus et sa carte cocktails à l'honneur, et les sublime d'un concept qui fait sens avec ses valeurs. On active le mode été, et on part découvrir le Caraïbos Cocktail Club !
Le Caraïbos Cocktail Club c'est l'occasion de découvrir les cocktails signature de l'évènement. Le cocktail Phare de la tournée : à base de jus d'ananas, framboise, goyave, gingembre, ou encore, la Maragarita Passion et le Gin Tonic Ananas Ginger.
Des recettes toujours simples avec un minimum d'ingrédients, pour pouvoir les reproduire facilement chez soi ! Ou bien partez sur les cocktails classiques et incontournables comme la Pina Colada (la vraie !), le Mojito, le Punch Planteur et j'en passe.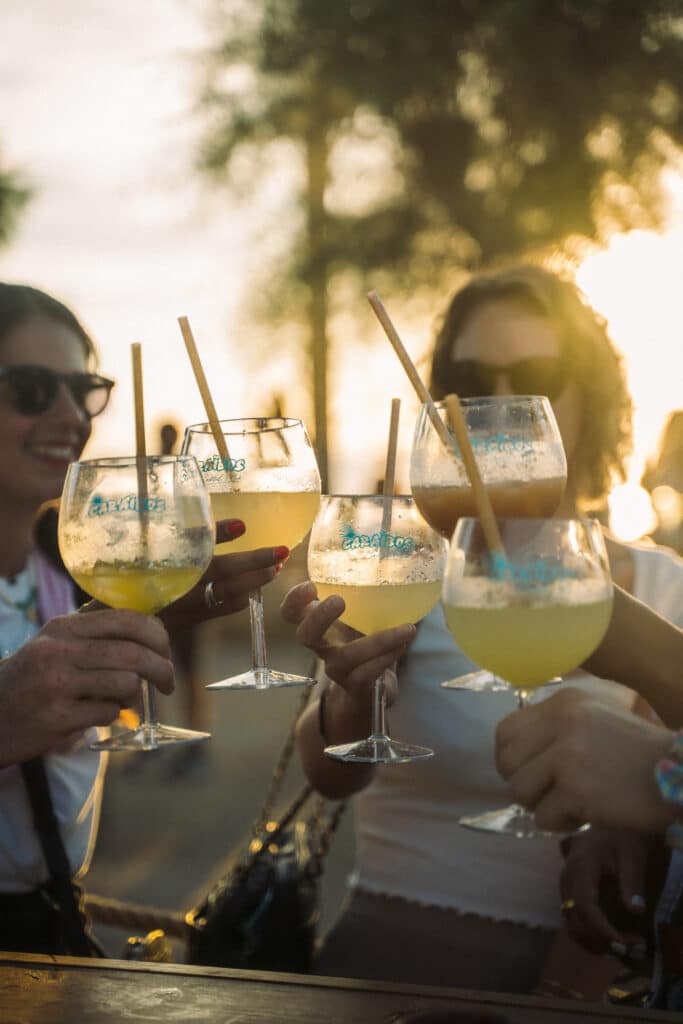 À la nuit tombée, les torches qui entourent l'installation s'allument pour tamiser l'ambiance.
Vous l'aurez compris le Caraïbos Cocktail Club, sera l'événement, à ne pas manquer en ce mois de septembre
Retrouvez tous nos bons plans sur notre site www.quoifaireabordeaux.com
L'abus d'alcool est dangereux pour la santé à consommer avec modération.
Les bords de Garonne vont s'embraser au rythme du Caraïbos Cocktail Club
La Belle Saison
RDV du 15 septembre au 2 Octobre
Le Caraïbos cocktail Club débarque à la Belle Saison
75 Quai des Queyries, 33100 Bordeaux
Info : 05.57.80.33.33